Bob Scheelings' works are characterized by an amazing sense of realism. No detail goes unnoticed. His experience and skills as a horseman shows through when it comes to conformation and the equipment the horse is fitted with.
No matter what the subject matter is; whether it is wildlife, birds, horses, human figures, or just an ordinary hound dog; miniature or monumental, he truly captures their spirit.
As a youngster in his native Holland, Bob Scheelings liked to roam the dunes near his home on the western shores of the country. The abundant aviary wildlife present became his object of study. Especially drawn to the crow family and birds of prey, he put his observations to task as a taxidermist.
During his early twenties, this mainly self-taught artist moved to the United States to perfect yet another passion: the art of horse training. He now found himself in a totally different environment, the deserts of the Southwest. He quickly became smitten with these harsh and diverse surroundings.
While working as a horse trainer, Bob started doing commissioned portraits in pastel. For over 20 years, Bob has successfully trained and shown reining and cutting horses in the U.S. and Europe. He continued to paint horse portraits and desert landscapes. Early on, Bob had tried his hand at sculpting but did not know enough about the process and could not afford the considerable expense of casting it in bronze. Then after working as a metal chaser for a fine art bronze foundry, he learned how to go about it and the elaborate process involved. Bronze is now his medium of choice, and he runs his own fine art foundry where he also works on the art of other artists.
Bob finds great inspiration in his desert surroundings, and in nature in general. He is a great fan of artists such as George Phippen (whose high-desert hometown, Skull Valley, he now resides in, as well as the stroke of fate that it is the original Phippen bronze foundry he now runs his own foundry business in). Other artists he admires are Mehl Lawson; or painters like Carl Brenders and John Clymer. "Every piece, large or small, must tell a story".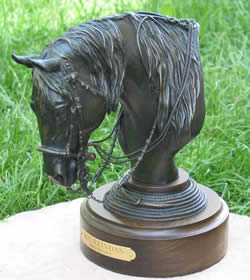 Dos Riendas
The art of the Vaquero is rapidly vanishing. Dos Riendas depicts the "Double Reined" horse. The notches cut in the horse's mane near the withers, tell the cowboy (or Vaquero) the stage of training this horse is in when selecting his mount of the day from the remuda.
This horse is double rigged with the hackamore and a spade bit. The horse was started in a hackamore and gradually will transition into a bridle horse with only the spade bit.
Come See Bob Scheelings at the Annual Phippen Museum Western Art Show and SAle, Memorial Day Weekend.
Bob was awarded the People's Choice Award in 2009!!
Courthouse Plaza, Downtown Prescott
You will find us in Booth number 122 - near the corner of Gurley and Cortez.

This large outdoor show and sale presents oil, watercolor, acrylic, mixed media, sculpture and drawing by some of the country's best western artists.
You can also see some of Bob's art in:
The Mountain Spirit Fine Art Gallery, on Whiskey Row in Prescott, Arizona
The Skull Valley General Store and Gallery
Oog Voor Natuur Wildlife Gallery,
Opheusden, The Netherlands